Boys basketball practice for Thursday morning and Friday afternoon have been cancelled. Again no boys basketball practice on Thur. (11-17) or Fri. (11-18).

Basketball games vs. GW at HV tomorrow night. Players remember uniforms, shoes and bring $3.50 for pizza.

Open gym is available tomorrow for A and B basketball players from 9-10:40. Choir will follow that until 11:45.

The order of basketball games at Richards tonight will be B Girls, B Boys, A Girls, A Boys. We will stop at Wendy's on our way to the games, so remember meal money.

There will be no boys basketball practice on Saturday (11/5) morning as previously listed on the practice schedule. Our next practice will be Monday (11/7) after school. Thank you.

November Athletic Schedule

A practice schedule for November will be delivered this evening. There is a boys basketball practice at 6:30 AM in the morning for those that can make it. No evening practice due to Halloween.

Due to a scheduling conflict there will be no cross country practice after school on Monday October 24. There will still be boys basketball practice. We will still have cross country practice on Wednesday of next week.

We will be attending a 3-4th grade dual xc meet at West Plains Elementary Monday Oct. 24. This was left off the practice schedule but was on our meet schedule. A bus will take runners to the meet but parents will need to pick kids up from the meet. The girls will run at 4:00 and the boys will follow after that. An information sheet will be coming home with your child today.

Boys basketball will have practice Friday morning from 8-10. This is not on the schedule sent out at the beginning of the month. Coach Dixon will be at the gym about 7:30 if parents need to drop kids off early in order to make it to work.

Due to the much needed rain there will be no xc practice tonight. There will still be boys basketball practice until 5:30. Thank you.

The Ozark Conference cross country meet was moved from Saturday to Friday this week, so Howell Valley will not be participating in it this year due to our participation in the Richards cross country meet on the same day.

Registration for Ozark Conf. XC meet closes tomorrow (10/11). Coach Dixon needs a confirmation from students wanting to run in this Saturday (10/15) race. Details about start time have not been released yet but it will be a morning start time at Lake Springfield. Transportation details will be worked out once we have a head count and official start time. Please discuss your child's desire to run (it is not required) and let Coach Dixon know first thing tomorrow morning (10/11). Thank you.

Panther Relay Results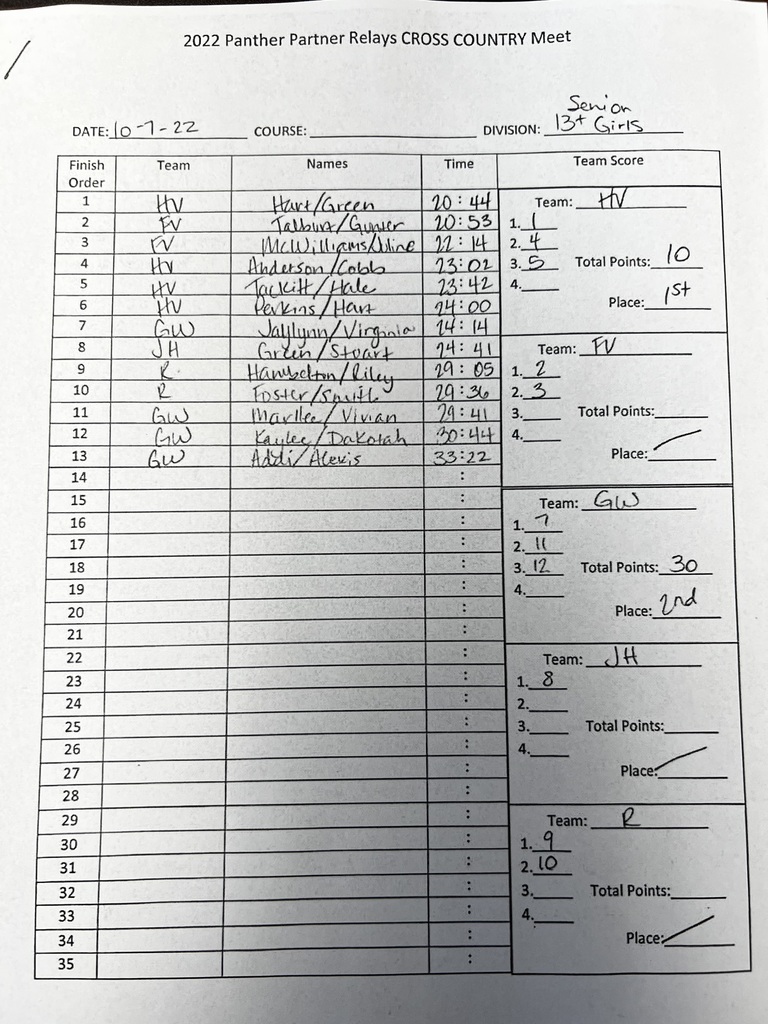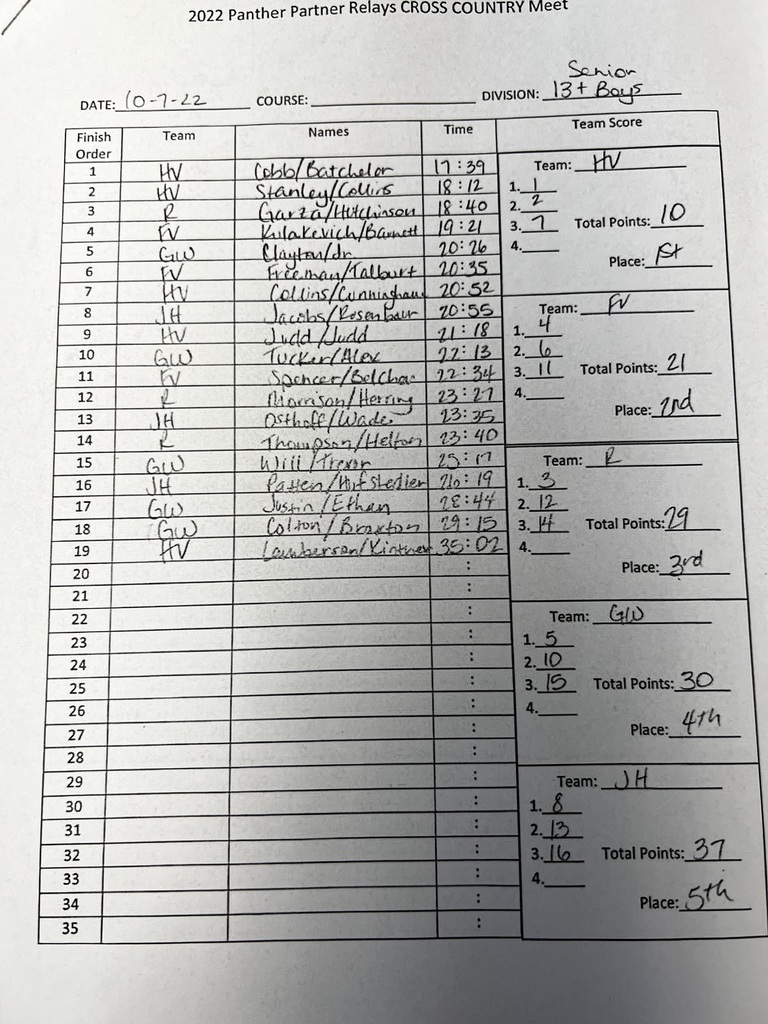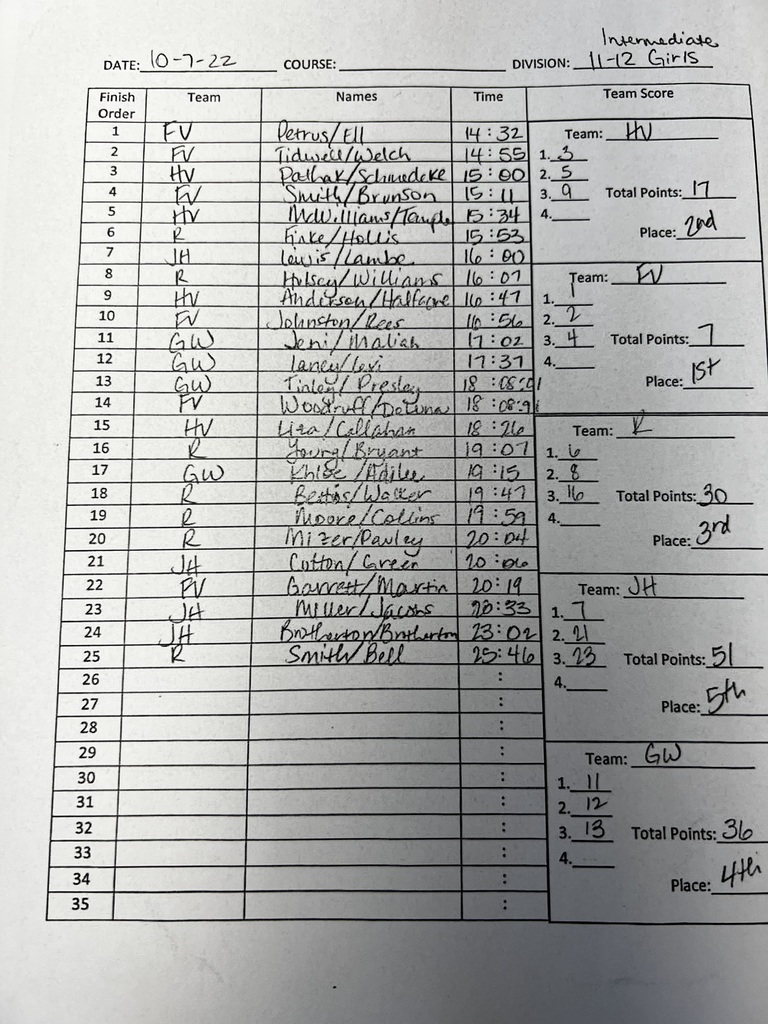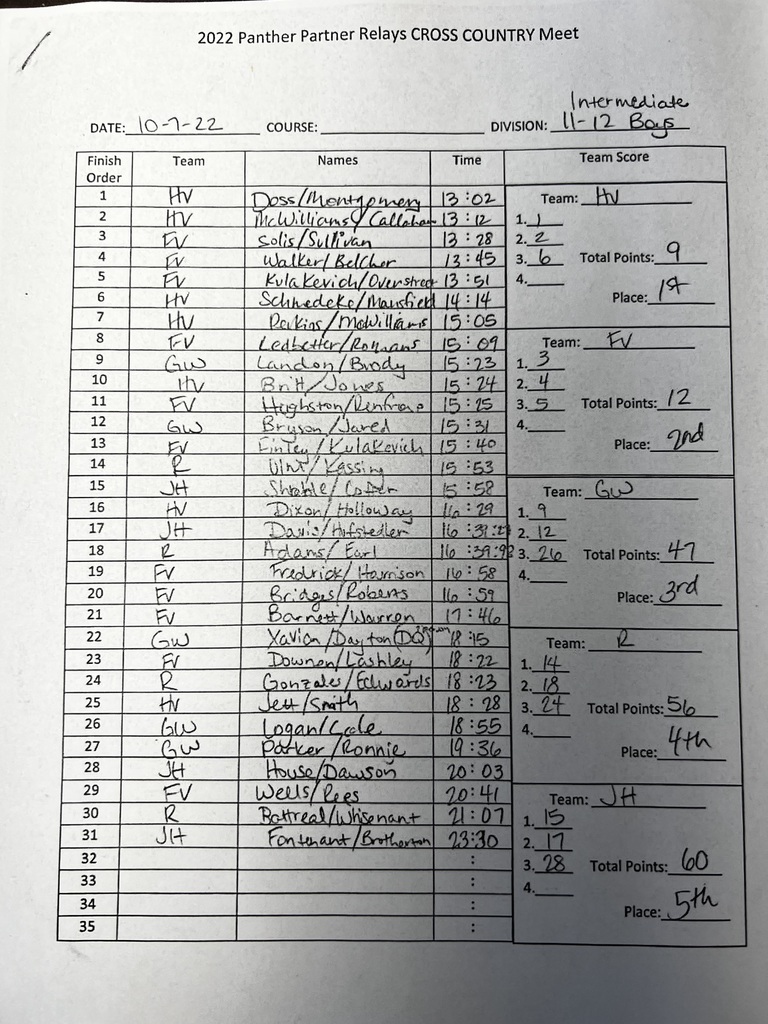 Panther Relay Results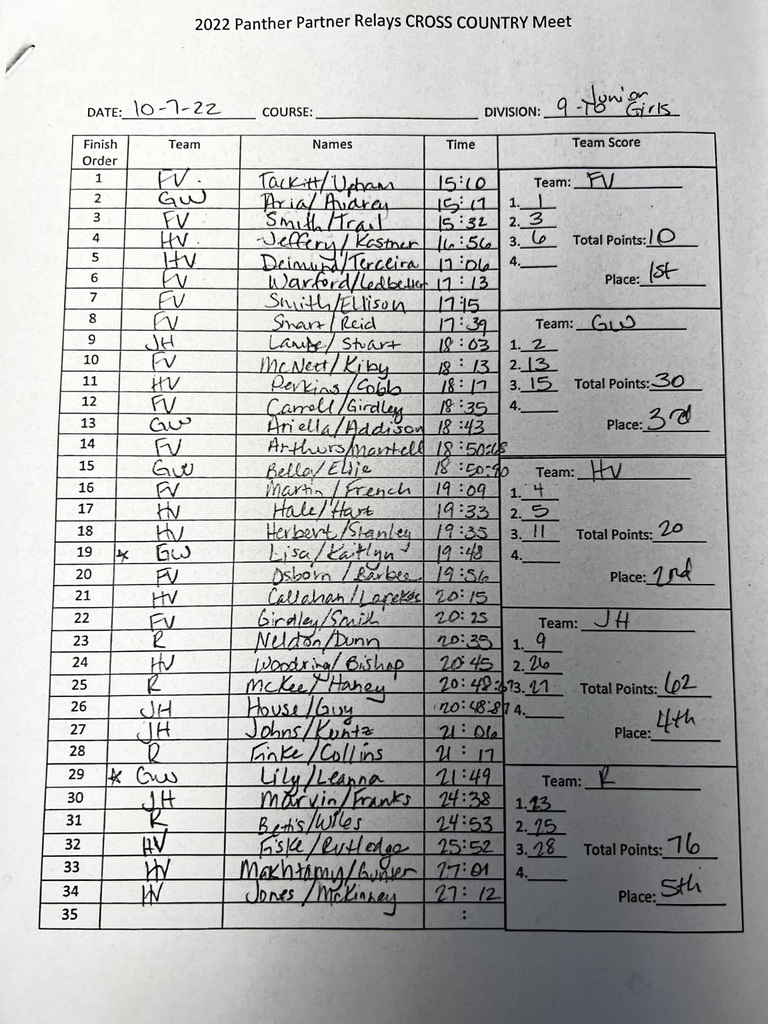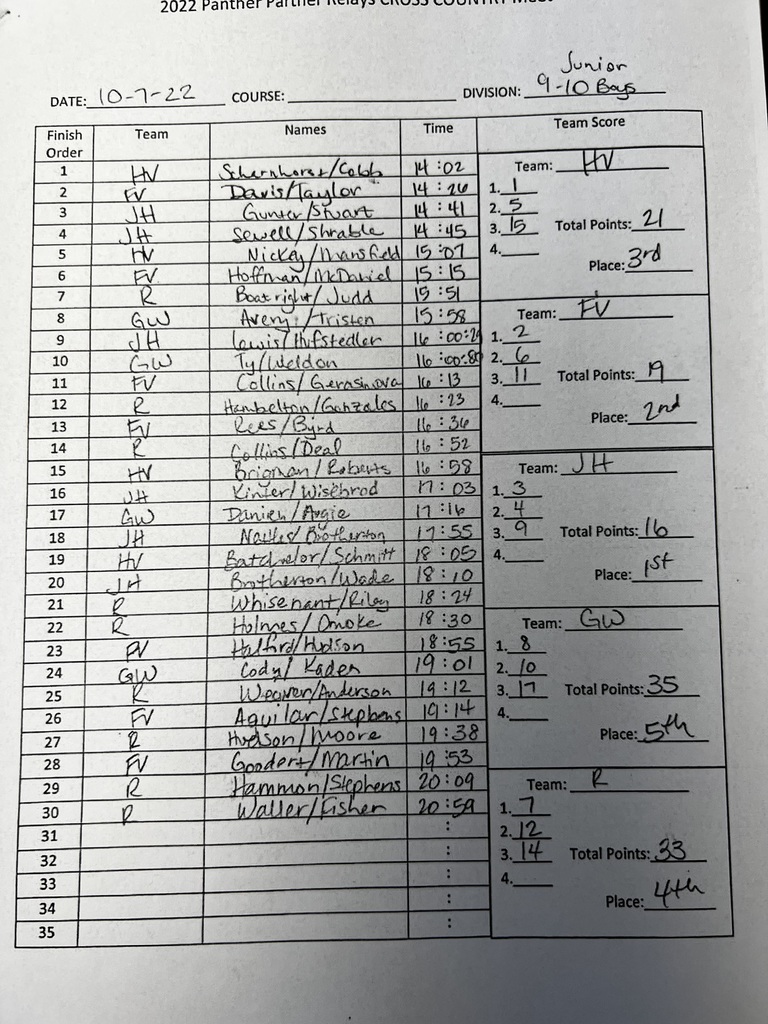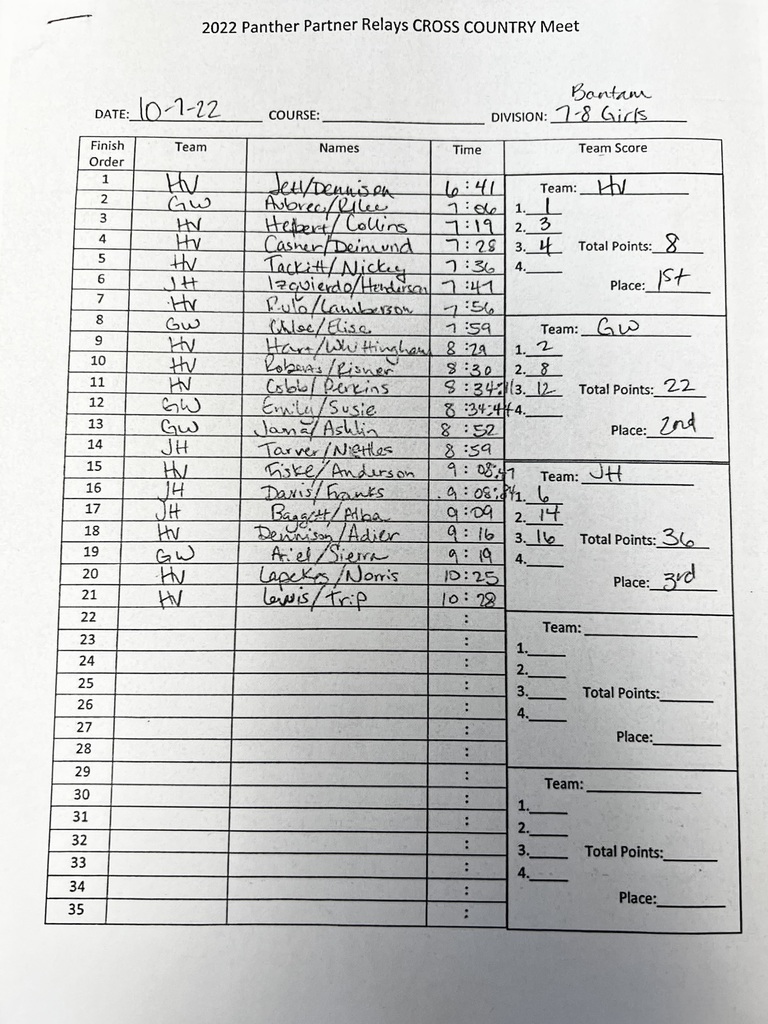 Great job tonight Panther Runners. First place in 5 of 6 divisions in an 8 school meet. Remember baseball/softball jerseys tomorrow for pictures.

Great job tonight in Willow Springs Panther runners. Our next meet will be at Zizzer Stadium this upcoming Tuesday night. Schedule and info will come home with students tomorrow.

Great Job C-Team Panthers! Both girls and boys win over FV. There will be no morning BP or running tomorrow (9/21).

There will be xc practice on Wed. until 5:15. 3rd and 4th grade may attend along with any uppergrade students not involved with baseball practice.

Remember uniforms for C-Team game v. FV tomorrow. Only 5th grade B-Team players will be playing in the game. 6th and 7th B-Team players will stay at school. The game will begin between 3:30 and 4:00 and end between 5:00 and 5:30. All players need to be picked up at FV.